Thanks to a declassified set of georeferenced bombing data, we now know that America's official story on activity in Cambodia during the Indo-Chinese War bore little resemblance to the reality of the campaign.
From the article, Bombs Over Cambodia by Taylor Owen and Ben Kiernan:
"The data released by Clinton shows the total payload dropped during these years to be nearly five times greater than the generally accepted figure. To put the revised total of 2,756,941 tons into perspective, the Allies dropped just over 2 million tons of bombs during all of World War II, including the bombs that struck Hiroshima and Nagasaki: 15,000 and 20,000 tons, respectively. Cambodia may well be the most heavily bombed country in history."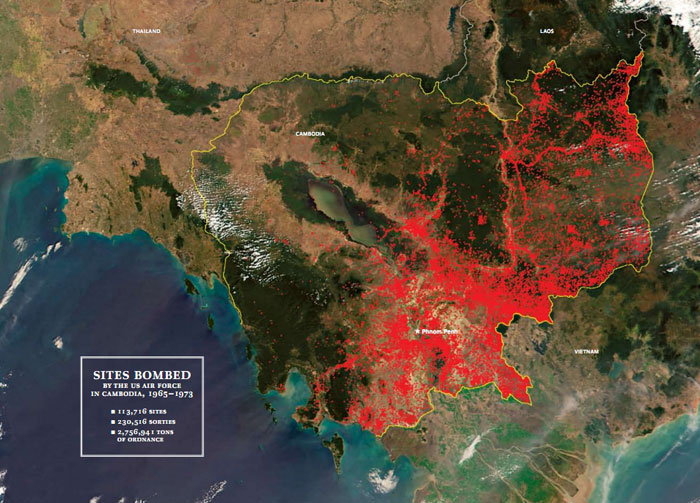 (click to enlarge)
How does set a drastic course of action get set in motion?
"After telling Kissinger that the US Air Force was being unimaginative, Nixon demanded more bombing, deeper into the country: "They have got to go in there and I mean really go in…I want everything that can fly to go in there and crack the hell out of them. There is no limitation on mileage and there is no limitation on budget. Is that clear?"
Kissinger knew that this order ignored Nixon's promise to Congress that US planes would remain within thirty kilometres of the Vietnamese border, his own assurances to the public that bombing would not take place within a kilometre of any village, and military assessments stating that air strikes were like poking a beehive with a stick.
…
Five minutes after his conversation with Nixon ended, Kissinger called General Alexander Haig to relay the new orders from the president: "He wants a massive bombing campaign in Cambodia. He doesn't want to hear anything. It's an order, it's to be done. Anything that flies, on anything that moves. You got that?""
Read the whole story at The Walrus.
[via
iRevolution
]