Earlier this week we looked at the study of culturomics, which takes the frequency of a word's use in written literature to quantify cultural trends.  Now we're going to see what can be done with this data on a larger scale, in this case, measuring the impact of scientists.
Here's the top 20 from the Science Hall of Fame, which includes over 4,000 names from two centuries…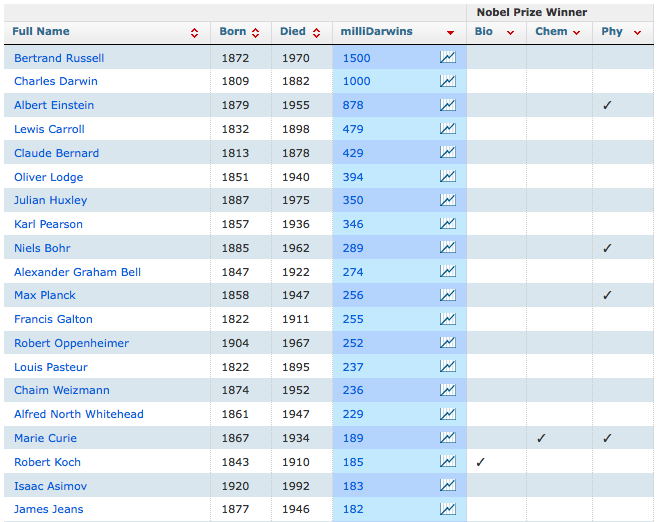 Though the researchers used milliDarwins as the measure of fame for the study, ACM's favorite, Bertrand Russell tops the list.
To give you a little more perspective on the timelines involved here, check out this video that covers physicists, chemists and biologists and their level of fame by year.  You'll find plenty of new names worth looking into further…
Speaking of, who was Claude Bernard?  Turns out he was a french physiologist who worked to bring the scientific method to medicine.  First to use the term milieu intérieur (aka homeostatis), let's close with a quote from him regarding our bodies' relationship with the external world, which has some interesting relevance to the Ape Con Myth…
The living body, though it has need of the surrounding environment, is nevertheless relatively independent of it. This independence which the organism has of its external environment, derives from the fact that in the living being, the tissues are in fact withdrawn from direct external influences and are protected by a veritable internal environment which is constituted, in particular, by the fluids circulating in the body.
For more on the Science Hall of Fame, you can check out the article from Science explaining their process or go to Gonzo Labs for other materials from the study's creators, John Bohannon and Adrian Veres.