Inspired by the launch of Google+, here's a visualization of some of Google's competition, as laid out in the TechCrunch piece, Google's Six-Front War: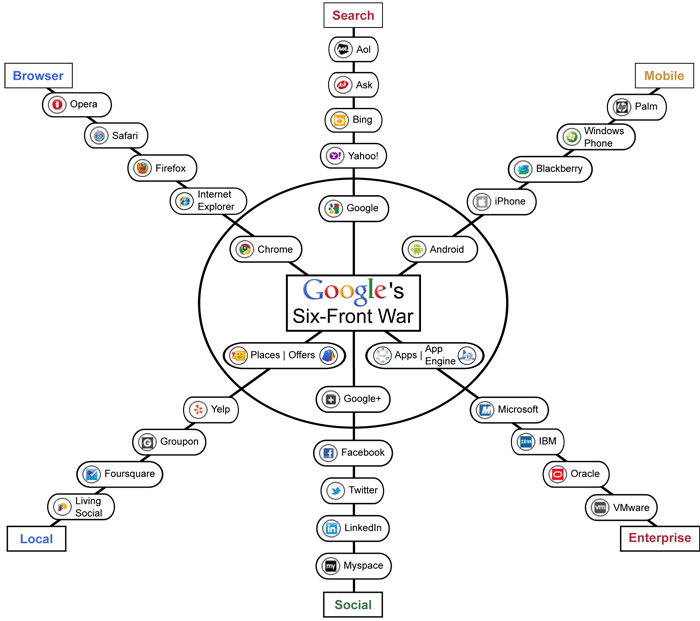 (click for larger version)
Of course, that leaves out video/photo hosting, blogging, desktop OS, music, TV, eBooks, driverless cars, philanthropy, other stuff we know about and whatever we don't know about yet.
How is Google doing in all of these battles?  For the more mature products in the top half, very well.  In Search and Mobile, they are number one.  Among browsers Chrome is in third place, moving in the right direction.  It's the bottom half where Google has their work cut out for them.  Google+ is estimated to have brought in 10 million users in the first two weeks with a chance of doubling it by the weekend.  Although that only amounts to 1-3% of Facebook's crowd, it nonetheless puts Google+ at about 7th place in the Social sphere right out of the gate.
Let's the games begin!
Update: How's Google+ doing a month later?  While this ranking puts it in 6th place with 32 million users, it would seem that the honeymoon is over, due largely in part to Google's awkward stance in the "real names" vs. pseudonyms debate.   After years of using Google products pretty much any way we want, suddenly there is a rule that has left an unknown number of deleted profiles in its wake. Meanwhile, Google is facing some serious challenges in the patent wars and falling behind in at least one stat related to their crown jewel, search.  My, how quickly the weather can change…