When looking at median gross rents, the extremes get washed out as location, location, location turns into everywhere.   In 2010, the U.S. median gross rent was $842/month, up from $602 in 2000.  For some perspective on the change, here's a look back at the last few decades, with and without adjustments for inflation.


Now breaking it out by state and county with data from 2000, location begins to return as a factor.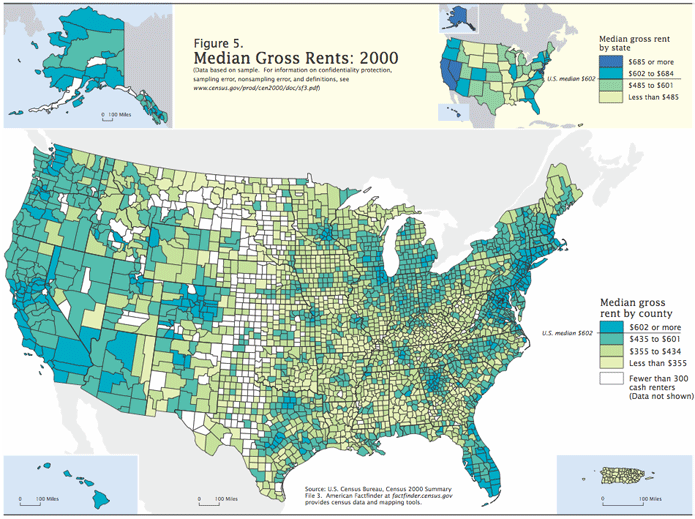 (click to enlarge)
But if you live in a big city, these rents might seem completely divorced from reality.  To make sense of urban rents, you have to move the cutoff up to 2.5x the median.
On the other hand, below you can find out where people would likely choke at the thought of $1,500/month rent.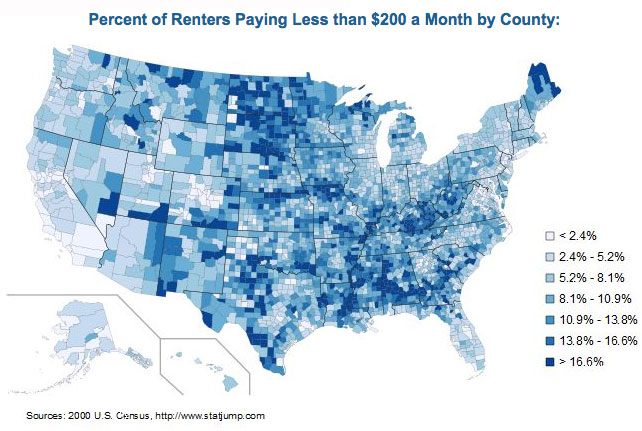 While the percentages seem to favor cheap rent, remember that 1% of Los Angeles, the most populated county, is larger than the population in 81% of the other 3,220 counties in the U.S.
[
Historical rents
and
2000 Median Gross Rents map (pdf)
from the
U.S. Census Bureau
;
$1,500
/
$200
maps from
StatJump
]