The voting has ended over at The Consumerist and Electronic Arts has won the title of Worst Company in America for 2012.
Bank of America made it to the final match-up for a second year in a row, but failed to worst EA this year as it did with BP in 2011.  The bracket brought together 32 of the least admired companies America has to offer and you can click on the image for the full bracket and blow-by-blow accounts of this year's battle.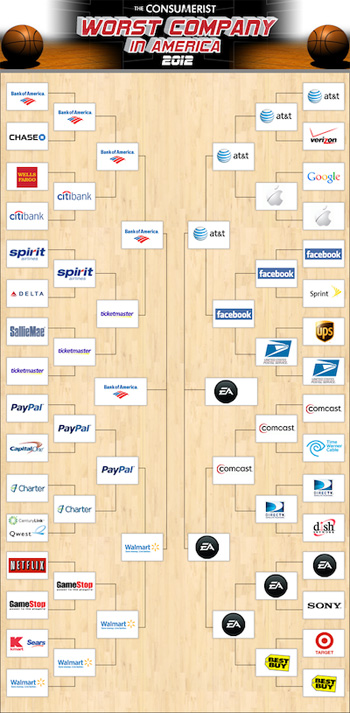 If you'd like to explore the history of the contest, here's an archive of all the tournaments going back to The Consumerist's start:
WCIA 2011 – BP beats Bank of America [bracket]
WCIA 2010 – Comcast beats Ticketmaster [bracket]
WCIA 2009 – AIG beats Comcast [bracket] WCIA 2008 – Countrywide Home Loans beats Comcast [bracket]
WCIA 2007 – RIAA beats Halliburton [bracket]
WCIA 2006 – Halliburton beats ChoicePoint [bracket]
Notice all the repeats.  Apparently "worst" doesn't mean they won't be around next year.  But where else are you going to take your demand when the largest companies control almost all of the supply?