One of the many things you'll find out from the Wall Street Journal's What They Know series is that you need a new online dictionary. In their study of tracking files distributed by major websites, dictionary.reference.com (aka dictionary.com) topped the rankings by passing on an absurd 234 tracking files to its visitors in the name of 40 companies who want to know more about people who use the dictionary.  Merriam-Webster, whose auto-play videos should be punishment enough, came in second with 131 trackers.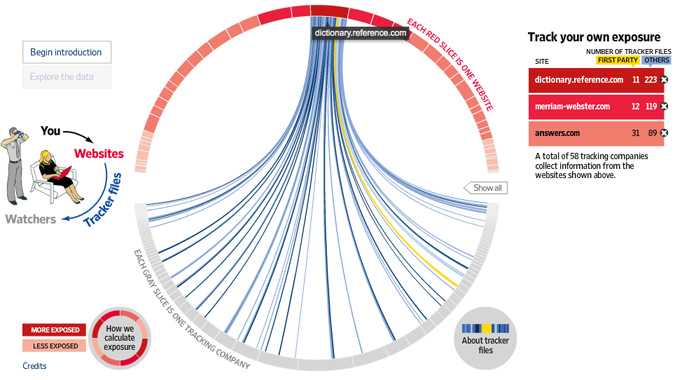 So the next time you look up bullshit in the dictionary…

…Wikipedia is your only safe bet when it comes to what Google is going to serve up first, though Wiktionary would be the appropriate option. Not only is Wikipedia the most popular website without ads, it is the only one of the top 50 sites not installing a single tracking file on your computer. Check out What They Know to find out which sites lie in-between.
[via
Visual Complexity
]