Every once in a while you run into a page on Wikipedia that never quite came together.  It's not a stub, but it's far from complete.  'Economic issues in the United States' is one such page.  The edits still trickle in, but the page remains adrift.  The section on Cost of living is a particularly interesting read, starting off in one direction only to have the wheels fall off at the end.

Minimum wage is one of those things, but why?  Because the economy is a murky pool where it is easy to make correlations and often impossible to prove anything, especially what any one value will do to everything else when changed.  It's perfect for humans since it allows everyone to make their point, even if no one really knows what is happening.
As for the first part, yes, paying employees more is one possible thing that might lead a business to raise prices.  But so are gas prices and food prices and prices in general.  Prices don't wait until their year-end review to find out if they got a bump.  They go up and down as they please, but mainly up because the only measure is more.  There's always someone raising prices and therefore always someone to point at and blame for your prices going up too.  It makes sense that wages get a turn, unless you want everyone to max out their credit and lose their home.
Now for that missing citation.  Would you say the minimum wage has not kept up with inflation over the past 30 years?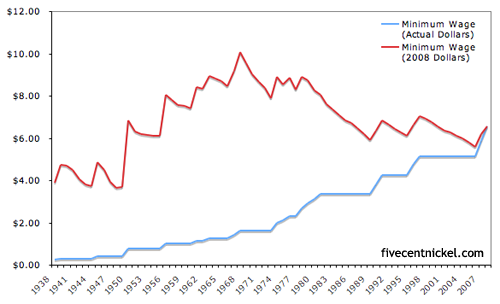 Almost, except for that first part there, the 80's, where it didn't at all and then the second part where it never caught up to the levels seen in the 60's and 70's.
The funny part though is how much drama surrounds the issue, once you start looking at the numbers.  Of the 139 million people employed in the civilian labor force in 2010, only 4.4 million (3%) were making at or below the minimum wage.  "Only 4.4M" because when the subject of minimum wage is brought up, you'd think the idea was to burn every business down.
Look closer and that 4.4M includes 2.1M workers aged 16-24 and 2.7M part-timers.  Look again and 2M work in leisure and hospitality (1.6M of that food services), 764K in retail and 425K in everyone's favorite, education and health services.  Meanwhile, there's all the cities and states that have set their own standards for living wages (some higher, some lower).
The federal minimum wage is a far more specific issue than it would seem and, apparently, what might be most at issue is the price of cheap, fast food.  If those kids didn't make minimum wage, McDonald's might cost as much as real food.  … Oh, never mind, it already costs more.  Two wrongs don't make a right, but they can really turn out a profit.
In the end, if Wall Street can complain about their pay, everyone can.  (And perhaps they're all right.)