From Water.org…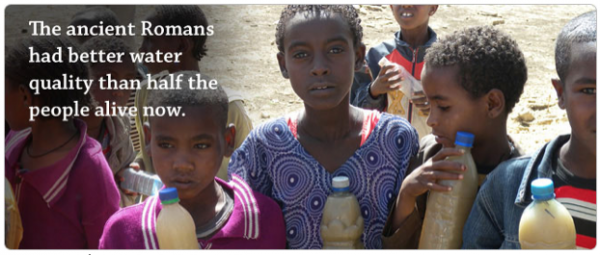 Yeah, you're right, if aliens visited us, this would be one of the countless embarrassments humanity would have to endure.  (Taking ACM's assumption that the aliens' first question will be, "What are you people doing?!")
If 884 million people lack access to safe water and it costs $25 to provide one of these people water for life*, the total price tag for taking care of the problem is $22.1 billion.
Is that a lot of money or a little?  As with everything else, it depends.  Considering Water.org averaged $4M in program spending the last two years and that adding in 4 more top-rated water charities doesn't get us up to $20M, $22.1B is a daunting sum.  On the other hand, in the United States we spend over $50B a year on footwear.
If 4.5% of the world's population can spend that on shoes, then the 87% of people on the planet with clean water should have no trouble in getting that figure up to 100%.  The only question is how.  Ape Con Myth will continue to explore the subject.
For now though, here's five 4-star-rated water charities according to Charity Navigator: Water.org, Water for People, Water Missions International, WaterAid America, and Lifewater International.  Please note, however, that Givewell evaluated all five and currently does not recommend any water charities, though Water.org* got their stand-out nod.
For more information on the global water situation, visit UN-Water.
Happy Sad World Water Day!.
[Related Posts at
00093 – Water
]