Between the beginning of our universe and the present moment lies 13.5 billions years and so much data that the Information Age hasn't even put a dent into it yet.  Not only did Earth not come together, literally, until 9 billion years after the party started, we, relatively speaking, just showed up a few moments ago.  That's a lot of inside jokes we've missed out on, not to mention all the other universes or unknown entities potentially beyond our present understanding.
Despite the disadvantage, the field of Big History was born in the 1980's with the simple goal of studying history from the beginning of time to the present across multiple disciplines of knowledge.  How's it going so far?  Judge for yourself by checking out ChronoZoom, a collaboration between Microsoft Research, UC Berkeley and Moscow State University.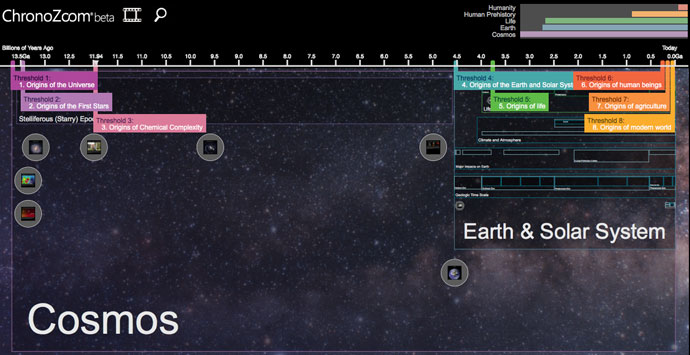 (click to explore ChronoZoom)
While visually impressive, you might still wonder where you are going to find the time to dive into such a study or why you should even care given that you haven't filed your taxes yet, but perhaps Bill Gates will one day save up enough money to give us all a couple of days off for such a purpose.  Until then, more information can be found at the Big History Project and from David Christian's TED talk on the subject.
[via
Flowing Data
] [Related Posts:
Carl Sagan's Cosmic Calendar
,
Get Your Perspective On
]